Explore deeper discounts on Diamond's 2018 Holiday Stock Up Sale with the LAST CHANCE Holiday Stock Up Sale! Running now through Monday, November 19 at 5:00 p.m. ET, the Last Chance sale makes this your perfect opportunity to stock your shelves with high margin product for the holidays ahead! All items are offered at individual low net prices, ALL WITH NO REORDER CHARGE, while supplies last!

---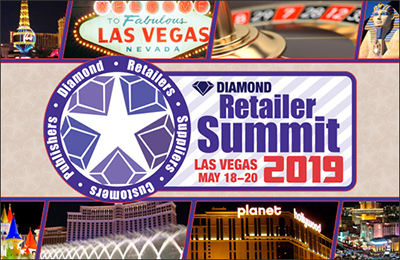 Click here for Early Bird Retailer Summit Registration through January 31!
Register now for the 2019 Diamond Retailer Summit in Las Vegas from May 18-20, three days of Retailer Workshops, Forum Sessions, special panels, publisher presentations during mealtimes, and a retailers-only Exhibit Hall!